Our Solutions
e

Itinerary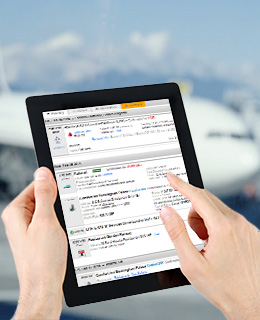 Click image to enlarge.
Travel Incorporated's proprietary eItinerary is more than just a static display of your travel schedule. eItinerary is a functional, living document that can be personalized from the time you book your reservation throughout the duration of you trip. eItinerary is compatible with your mobile device, therefore convenient and functional while on the road.
Before your trip begins, your eItinerary can be integrated into your online calendar. Any changes to your itinerary will reflect on your calendar instantaneously. Check-in to your flight directly from your eItinerary. View real-time flight status including delays, cancellations and gate information on the day of your departure.
During your trip, refer to your eItinerary to find area maps of your destination with driving directions. Travelers also have the ability to add customized travel segments such as customer appointments, dinner reservations and other events creating a "Master Itinerary" to help manage your entire trip.
eItinerary Features
Enhanced Calendar Integration
Flight Check-In with a Single Click
Real-Time Flight Status including Delays, Cancellations and Gate Information
Area Maps & Driving Directions
Hotel Images & Information
Add Customized Segments such as Meeting Events, Dinner Reservations
Merge Multiple Itineraries
Mobile Device Compatible