Our Solutions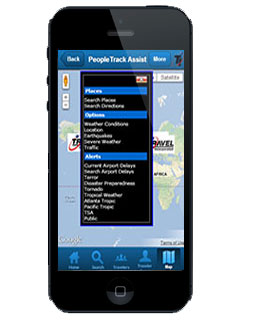 PeopleTrack Assist
Did you know? Last year...
There were 61,549 Earthquakes worldwide. 18% measured greater than 4.0 magnitude.
There were 83 Volcanic eruptions, a record breaking year.
1,088,021, or 18% of all US Domestic commercial flights were delayed. Less than 2% were canceled.
35% of all flight delays are weather related.
Any incident can turn into a crisis situation. Are you prepared to locate and protect your travelers?
PeopleTrack Assist (PTA), Travel Incorporated´s proprietary crisis management solution, enables your company to prepare for uncertainty and prevent unnecessary chaos from your mobile device or desktop. Immediately locate and connect with your travelers to ensure their safety.
PTA provides you with the following benefits in one complete application:
Mobile enabled
View your traveler´s last known location on a visual map
Print reports directly from the map allowing you to quickly execute next steps
Full travel itinerary displays on the map providing complete visibility, including en route flight status
Two-way communication with traveler(s) via email or SMS text to ensure safety and provide next steps
Map displays essential nearby locations - Embassy, Police Station, Hospital - based on the traveler's location including directions
Disaster documentation & preparation Instructions are embedded within the map
Real-time terror alert status